Earth Abides

BY J RANDALL MURPHY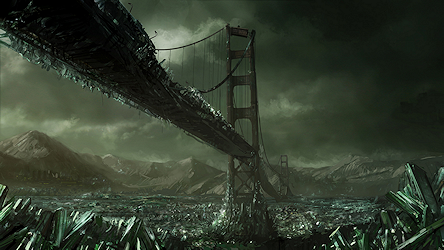 This song was first written and performed during 1988 when I was heading a local underground band called 9-DAZE ( not to be confused with any current band by the same name ).
It was originally titled Sojourn of Sorrow. I changed the name at some point after that to Earth Abides, because it was simpler to write on a set list, and was inspired in part by the 1949 novel of the same name by George Stewart.
In the soundtrack there's also a sampling from the 1957 radio play Earth Abides, voiced by John Dehner ( also now in the public domain ). The words are included in the interlude section of the lyric sheet below. I found the artwork ( above ) on a free clip site. If anyone knows the original artist please let me know so that I can give them proper credit.
Despite the book's depressing plot, Earth Abides is among the earliest portrayals of post-apocalyptic life in the history of the genre. It's also among the first to impart the idea that Earth has been around far longer than humans, and may very well be around long after we're gone, unless that is, we clean up our act.
Religious Symbolism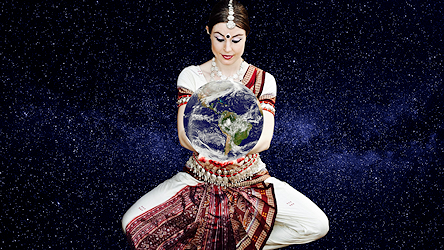 One doesn't need to be religious to appreciate that religious symbolism can be used as a metaphor for a variety of cultural situations. From a religious perspective, Mother Nature is central to pagan mysticism.
In ancient Greek mythology she is portrayed as the Goddess Gaia. In Māori tradition she's called Papatuanuku.
Because Gaia has become somewhat of a New Age trope, I wanted to try something new. So I used three separate sources to create a composite scene with a mystical Eastern Indian flair. After creating the clip, I noticed that although the stars in the background aren't animated, when I'm viewing the image straight on at about arms length, they visually shift when I adjust my viewing position slightly from side-to-side. Can you see it too?
I don't know a lot about Eastern Indian culture, but I do know that the smallest of details can have meaning, so if anyone happens to know more about the symbolism behind the garments and gesture above, please feel free to comment on the YouTube page.
The inclusion of Moses in the lyrics comes from Abrahamic religions and can be seen as symbolic of the struggle of common people against the might of the ruling class. In this case the Pharaoh is a symbol of Egypt, of which the pyramids are emblematic. These monuments were a major industrial undertaking in ancient times. Today, it is big industry that is taking the lion's share of blame for climate change.
Coincidence & Synchronicity
Part 1 of the novel Earth Abides starts out with a warning about the potential for a pandemic spread by mass transit. With the rise of the youth eco-activist movement during 2019, followed by the COVID-19 pandemic in 2020, the following quote from the novel got renewed attention. Few people today are aware that it is an actual quote from a real magazine:
I

World Without End

'If a killing type of virus strain should suddenly arise by mutation ... it could, because of the rapid transportation in which we indulge nowadays, be carried to the far corners of the earth and cause the deaths of millions of people.'

W. M. Stanley, in Chemical and Engineering News,
Dec. 22, 1947.
So it turned out that while I was resurrecting Earth Abides in 2019, the COVID-19 pandemic was brewing. Then it hit in exactly the fashion described in Earth Abides. It also turned out that the main character is a graduate student working on an ecology thesis. So there is also an ecological theme that runs through the story.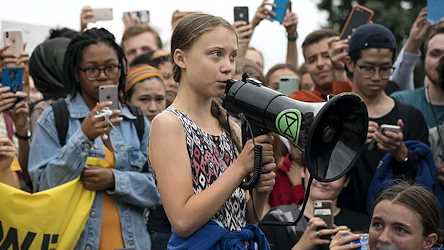 During the 70 plus year span since the novel was written, ecologists have been warning of an ecopocalypse, and in 2019, the growing concern culminated in millions of youth around the world joining Greta Thunberg's youth eco-activist movement.
Then the pandemic hit, and because it was initially believed to have originated in China's controversial wet-markets, where wild animals are slaughtered and sold as food, animal rights activists and environmentalists started calling COVID-19 "Mother Natures revenge".
The idea of Mother Nature's revenge echoes the subtext of Earth Abides in that it implies Earth has a conscious attitude about the relatively temporary span of mankind's existence on the planet, and that over time, if we don't work out how to better manage our stay here, nature will simply do it for us, without taking into account our welfare as a species.
Not Without Hope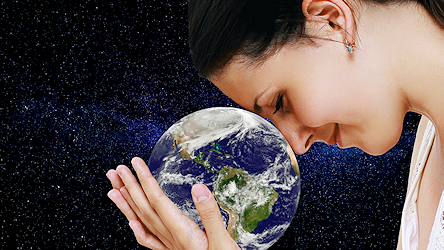 By the end of the video I was attempting to leave viewers with the impression that after some extended length of time following the ecopocalypse, Mother Earth would heal and return to her pristine state, making her happy once again for all her surviving children.
The final clip is a composite of several free photo clips I found online including a young mother who was originally holding a baby in her hands. I find motherly love to be one of the most beautiful expressions of love that exists in the world today. It gives me hope for the future, a theme that run through all three tracks on Renewable 1.
Lyrics
Earth Abides
VERSE I
Mother I know you're crying
Your children all gone bad
Look at your face. I can tell your dying
'cause nobody, nobody gives a damn
And your tears flow in the rivers and they burn your skin
And our family can't live together
'cause it's filled with so much, so much sin
So call on Moses and I'll pray to the Lord
Deliver us from the fate this world is headed for
INTERLUDE
We won't make the mistake a second time
There won't be any looking back
We'll forget the train that used to run
The tall buildings, the soft food
We'll go back to the Earth

VERSE II
Mother don't you feel alone
And your children won't they ever learn
Look at your face this age is growing old
And every little scratch and cut, how they take their toll
And your voice cries on the wind
But they won't stop the torturing
See them rape and kill for some stupid cause or the dollar bill
So crack the city walls and raise the tide
Mankind may come or go but
Earth Abides

- CREDITS -

INTERLUDE WORDS VOICED BY JOHN DEHNER
INTERLUDE WORDS BY GEORGE STEWART FROM EARTH ABIDES
ALL OTHER WORDS & MUSIC, VOCALS, ARRANGEMENTS, INSTRUMENTS,
RECORDING, ENGINEERING, PRODUCTION, PUBLISHING,
ARTWORK, WEBSITE DESIGN & CONSTRUCTION,
BY J. RANDALL MURPHY
A Free MP3 For My Fans
TO DOWNLOAD RIGHT CLICK AND SELECT "SAVE AUDIO AS"
There are three easy ways to become a fan
Or donate below
DIRECTLY THROUGH SECURE PAYPAL SERVERS
Thank you!